Sarah Palin is a disaster for the country. It remains to be seen whether she is a disaster for John McCain. What does not remain to be seen is whether John McCain is competent to be president. We now have proof positive that he is not. He apparently chose someone to be vice-president, and possibly the next president, about whom he knew next to nothing. From Josh Marshall:
Earlier I noted Andrea Mitchell's reference to reports that the McCain camp had just sent a team of GOP lawyers up to Alaska to do what I guess you'd call a post-vetting of Sarah Palin. Now George Stephanopoulos appears to have more. George says the McCainers are sending a "rapid response team of about ten operatives that includes lawyers" to do the aforementioned deeper vet. A lot of attention is being given to Gov. Palin's daughter's situation. The much bigger deal is the expanding trooper-gate investigation, the fact that Palin lied in her Friday speech about her purported opposition to the Bridge to Nowhere, her apparent former membership in the secessionist Alaska Independence Party, and more. Individually, you can come to your own judgment about how consequential these stories are. What they show pretty clearly now — in addition to the news that the McCain campaign is only now sending in a vetting team — is that John McCain didn't do any serious vetting of Palin before he invited her to join his ticket and, he hopes, become Vice President of the United States.
Whether he fell for a pretty face (it wouldn't be the first time he let his wiener do his thinking) or he just decided to "gamble" with the future of the Republic, this is proof positive that the man who trumpets his own experience has learned nothing in a long career in politics.
Here's more on Palin by the way, who-also by the way- retained a lawyer today to fend off impeachment in Alaska. She appears to be an executive in the grand tradition of George Bush. The first thing she did when she became Mayor of her Alaska Mayberry was to fire everybody, for no reason at all:
If a small-town mayor ever ruled with an iron fist — it was Palin. Eleven days after taking office in 1996, she mailed letters to each of the city's top managers requesting that they resign as a test of loyalty.

The Anchorage Daily News at the time reported the strange events: (via Nexis)

Mayor Sarah Palin sent the resignation requests Thursday to Police Chief Irl Stambaugh, public works director Jack Felton, finance director Duane Dvorak and Mary Ellen Emmons, the head of libraries. A fifth director — John Cooper, who oversaw the city museum — resigned earlier this month after Palin eliminated his position.

Cooper initially resisted resigning, but to no avail. Palin also later fired the police chief, saying she knew in her "heart" that he did not support her. She left the head of libraries a letter saying she was out — though Palin later decided to spare the librarian after being convinced that she would tow the line.

The whole saga is unusual — considering Palin prides herself on being independent and seems to enjoy butting heads with her own party. But, this sounds like she requires fierce loyalty of those who work for her.
A despot, true to the Republican traditions. No doubt she replaced them with cronies who were sure to do a heckuva job.
There's already speculation that she will share the same fate as Eagleton (e.g., here and here), a fate she more richly deserves than that decent man. There is a brief window for that to happen, in my opinion. McCain has mortgaged his candidacy to this lady. He can't be perceived as having forced her out, because he would outrage the women who support her for that reason (a microscopically small number of people, most likely, but probably existing in statistically relevant numbers) and, more importantly, his evangelical base which doesn't care what an incompetent nut-case she is. In addition, it would be an admission of incompetence on his own part. McGovern could not have been expected to know about Eagleton's past. All McCain had to do was get someone to Google her, and he could have found almost everything that has come out so far. In fact, all he had to do was go to Josh's website. He's been writing about Palin's problems long before she was chosen to run for vice-president.
If she's to leave, it must be before Thursday, and it must be in a way that is perceived to be of her own choosing. I would suggest that she decide that really, maybe "I should spend time with the Down Syndrome Child that I chose to bring into the world, given the fact that such a child needs intensive care, and given the fact that I made a commitment to care for it when I decided to have it. For that reason", she might go on, "I have decided that though I am flattered by being chosen, and I would love to go on with the campaign, I must put my family first, etc., gag, etc." None of it would be true, of course, but it would be truthy enough to do the trick.
Finally, since we're on all things Palin, watch this McCain spokesman weasel out of backing up the McCain claim that she has military and foreign policy experience by dint of being "commander in chief" of the Alaskan National Guard. The claim, by the way, is factually untrue as it relates to the National Guard's activities on foreign soil.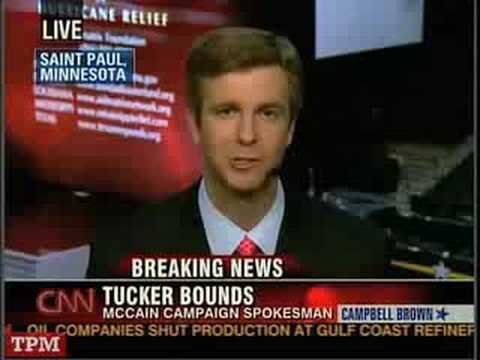 I may have to start a new category for this lady. I wouldn't have thought a vice-presidential candidate would warrant it. I only regret that after eight years of Bush it is really hard to summon up the proper degree of outrage about this candidacy. It reaches heights of incompetence, arrogance, cynicism and recklessness without precedent prior to November, 2000. Unfortunately, it doesn't come close to tying Bush/Cheney/Rove at their best.